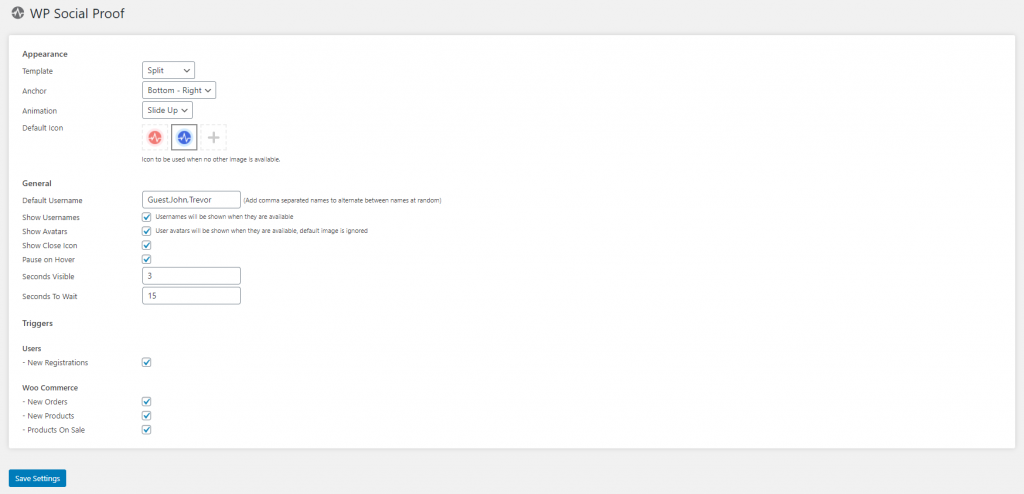 Appearance
Template: Select your preferred template, this controls the overall look and feel of notifications on your site. Options include: Standard, Rounded (Pro), Split (Pro)
Anchor: Control the placement of notifications on your site. Options include: Top Left, Top Right, Bottom Left, Bottom Right
Animation: Change the animation of new notifications on your site. Options Included: Fade, Slide Up, Disabled
Default Icon: Select the default icon to be used when no product image or user avatar (Pro) is available. The Pro add-on allows for a custom image to be uploaded
Show Powered By Link (Basic Only): Show your love for WP Social Proof by adding a simple powered by link below notifications (Optional)
General
Default Username: Set predefined usernames to be used when usernames (Pro) are not available. These can be comma-separated to randomize names with each notification
Show Usernames (Pro): Show usernames new registrations and orders (WooCommerce)
Show Avatars (Pro): Show avatars for new registrations and orders (WooCommerce)
Show Close Icon (Pro): Allow users to dismiss notifications by clicking on a dismiss icon (x) within a notifications
Pause on Hover (Pro): Allow users to pause the notification queue when hovering over a notification. This may improve conversions as links will be available to the user for as long as they hover on a notifications
Seconds Visible (Pro): Control how long a notification stays visible before being hidden
Seconds To Wait (Pro): Control how long the system should wait before showing a new notification to the user
Triggers
Triggers allow you to control which events should be tracked by WP Social Proof. WooCommerce triggers will only become available when WooCommerce has been installed on the site.
Users
New Registrations: Show recent registrations to visitors on the front end of your website. Install the Pro add-on to show usernames and avatars, or make use of the default icon and username options instead.
WooCommerce
New Orders: Show recent orders from WooCommerce. Includes product link to products that are in stock at the moment. If no products within an order are in stock, the notification is skipped
New Products: Show your latest products. Includes link to the product, as well as product main image if available
Products On Sale (Pro): Show your latest promotions on your website, includes link to product, discount applied and total cost at the moment.